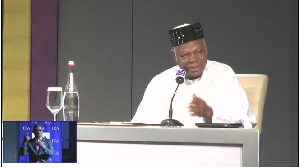 President John Mahama and Nana Akufo-Addo disrespected Ghanaians when they failed to honour a presidential debate organized by the Institute of Economic Affairs (IEA), presidential candidate of the People's National Convention (PNC), Dr Edward Nasigri Mahama has said.
The medical practitioner cum politician who was speaking on Onua FM morning show Yen Nsempa a day after the IEA encounter, expressed disappointment over inability of the two flag bearers to demonstrate to Ghanaians why they are looking for their mandate.

"It was an opportunity for all of us (flag-bearers) to be on one platform to tell Ghanaians our policy plan for the country, but I was disappointed that both the President (National Democratic Congress) and Nana Addo (New Patriotic Party) did not show up. What they are simply telling Ghanaians is they don't respect them and the platform."

Dr Edward Mahama who is contesting the presidential election for the 5th time said while there are talks of building strong institutions, people who will help achieve that objective are rather busily destroying the gains made. He argued that anyone who wants to lead Ghana should be prepared to "speak to them whenever and wherever they are called to do so".

The Institute of Economic Affairs, like it did in the previous elections, planned a series of presidential debates for the contestants in the 2016 elections. The institute on Tuesday held the first in the series, which was boycotted by the two leading political parties: the two had long communicated their unwillingness to participate in the event.
Surprisingly, two presidential candidates Nana Konadu Agyeman Rawlings of the National Democratic Party and Ivor Greenstreet of the Convention People's Party did not also show up.

Only three out of the seven presidential candidates took part in the debate – Dr. Edward Mahama of the PNC, Dr. Papa Kwesi Nduom of the Progressive People's Party and Jacob Osei Yeboah, an independent candidate.

In his observation, Dr Edward Mahama said the other candidates missed the opportunity for all the flag bearers not only to critique each others' policies but to demonstrate to the entire world that Ghana is ready for another peaceful elections.

Source: http://3news.com/iea-debate-mahama-akufo-addo-disrespected-ghanaians-pnc-flagbearer/