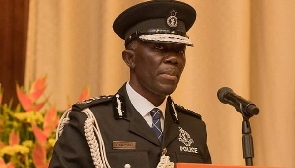 A Security Analyst, Samuel Nana Appiah has described the Inspector General of Police (IGP) Dr. George Akuffo-Dampare as an autocratic leader.
According to him, the autocratic leadership style of the IGP is adversely affected peace and cohesion in the Police Service.

"I am saying it here on authority, since the leaked tape went viral, I have spoken to some of the Commissioners of Police who are willing to testify if the investigation committee should invite them in the interest of reforming the Police Service.

"This tells you that there's a lot of things happening in the police service and what COP Mensah told the committee cannot be swept under the carpet. Before CoP Dampare was appointed the IGP I had several discussions. I believe the appointing authorities know or knew his personal profile.

"If someone is being appointed to hold such sensitive public office, much as you will consider his credentials in terms of academic, you need to consider his or her temperamental issues and how fair and objective the person is," the CEO of the Gobal Intelligence and Security Analysis Centre, told Host Bonohene Baffuor Awuah on Ghana Kasa show on Kasapa FM/ Agoo TV Monday.

He added: "I can tell you that the IGP is autocratic, I had this information prior to his appointment and some senior officers were of the view that if CoP Dampare is made the IGP and he does not change from his autocratic style of leadership, then there will be problems in the Police Service.
"The IGP has held many important positions in the Service. He's been Director-General of Finance, Director of Operations, Greater Accra Regional Command among others, so his file is available and those he served under are available. Many of the Commissioners of Police are not happy with his leadership style.

"We have the Police Management Board, but my credible information is that some of the members of the Board are not invited to Management meetings, and this has made lots of the Commissioners very unhappy."

The former Police Detective averred that the "Public Relations Unit of the Police Service in the various regional, Divisional and District Police Commands were established to relay information to the public and helps to ensure responsible and democratic policing.

"So, if it happens that under your regime as IGP, you shut this unit down, then people will surely see you as an autocratic leader. As we speak even the Regional Commands cannot speak to issues when they are called upon, it takes only the IGP to give clearance before information is put out in the public space."