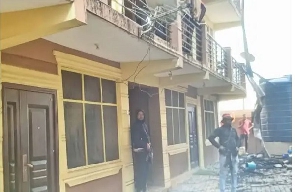 The Inspector General of Police, Dr George Akufo Dampare has instructed for the immediate relocation of all police officers and their families from a housing facility at Apromase to another location.
This was after a fire ripped through the police officers' apartments.

A police officer, 35-year-old Sergeant Owusu Asante Baafi with the Anti-Robbery Unit perished in the fire disaster together with his wife and a three-month-old child.

Other police officers and their families have been displaced and left traumatized following the incident.

The Police and the Ghana National Fire Service have launched a joint investigation into the incident.

However, the Inspector General of Police while addressing the victims said that there will be a comprehensive structural and technical assessment of the facility as part of the investigations.

He also disclosed that the Police administration is also deploying clinical psychologists to provide psycho-social support to the victim.
The Inspector General of Police was joined by some senior officers of the police administration to commiserate with the victims and assured them of their support as the police administration.

"We are in this together, we feel your pain and that's the reason why I had to travel all the way from Accra to see you in person.

"Let me assure you that, there will be a joint investigation between the Police and GNFS to bring finality to this matter and see how best we can assist you.

"Just as you are shattered about this incident, we are shocked too, and the best way to express our feelings is to come and console you," he said.

The fire which reportedly started around 11:30 p.m. on Sunday, January 15, 2023, razed down the entire five-bedroom self-contained apartments housing the deceased family.