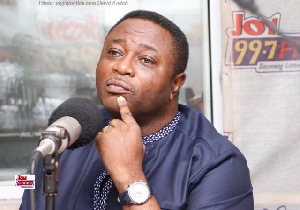 The Director of Elections for the National Democratic Congress(NDC), Mr. Elvis Afriyie Ankrah, has denied publications by the Electoral Commission that among issues discuss at their Inter Party Advisory Committee (IPAC) meeting on Wednesday, was a compilation of a new voter's register.
Accoding to him, though the issue of a compilation of a new voter's register was "part of the agenda", it was "never discussed at the meeting".

He was thus greatly surprised to see and read a communique from the commission regarding Wednesday's IPAC meeting indicating an extensive discussion on the compilation of a new voters register.

The NDC stalwart was speaking in an interview with sit-in host of Okay FM's "Ade Akye Abia" programme, Akosua Agoe Aboagye.

"If the Electoral Commission behaves this way by deceiving Ghanaians, we (ndc) cannot trust them in the lead up to next year's general election. An EC that is supposed to be neutral in its activities is rather deceiving Ghanaiains....this does not bode well for the country's electoral system," he stated.
In a related development, the leadership of the opposition party is demanding for an immediate withdrawal of the deceptive IPAC communique.

A statement signed by the General Secretary of the party, Mr. Johnson Asiedu Nketia, said the party has taken a particular notice of a portion of the EC press release which states as follows:- "The Commission will compile a new voters register ahead of the 2020 Presidential and Parliamentary Elections".

"We wish to state emphatically and without any fear of contradiction, that no decision was taken on this matter. In fact, the compilation of a new voters register was only mentioned in passing by the EC during discussion on limited registration. There certainly was no "extensive deliberations" on this particular matter," the statement added.

Mr. Asiedu Nketia added that the NDC therefore "disassociates itself" from the communique and demands it's withdrawal as it is not in consonance with conclusions of the IPAC meeting.