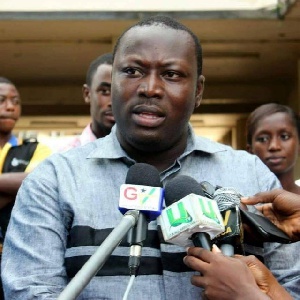 Thu, 11 Oct 2018 Source: Derrick Nii Armarh Tagoe
Aspiring National Youth Organizer of the National Democratic Congress (NDC), George Opare Addo has cautioned vigilante groups operated by the NPP to refrain from attacking any NDC member else there will be a retaliation in equal measure.
The former Municipal Chief Executive of Akuapem North was speaking as a guest on Asempa 94.7 FM's late afternoon political show Ekosii Sen with Philio Osei Bonsu.

Mr Opare was responding to a question by the host on the increase in activities by vigilante groups known to be supported by the ruling party, the NPP. According to him, any attack on one member of the NDC will see a retaliation of attacking four members of the NPP in response.

"I have to be honest with you, if the delta or invisible forces attack any of our members, we will retaliate by attacking four of their members. We can't sit down for the victimization and brutality meted out to our members to continue. We will protect ourselves because clearly the police cannot", he said.

Asked by the host if that will not be detrimental to the peace and stability of the country, Mr Opare Addo popularly known as 'Pablo' said, the government has failed in curbing the rise of these groups and it's up to the NDC to protect its members.
He said, "OB, our members need to be protected. This government has failed in clamping down on this menace; a judge was attacked in her own courtroom, a minister of state has been attacked, a senior police officer was also attacked at the Flagstaff House, we didn't see any action taken by government. It's up to the NDC to protect its members if this government won't."

According to him, government is unable to call these groups to order because it has continuously encouraged the activities of these groups.

The issue of vigilante groups has become a national concern after a rise in their activities following the 2016 general elections. There have been calls by civil society groups and the general public for the issue to be handled before it escalates


Source: Derrick Nii Armarh Tagoe