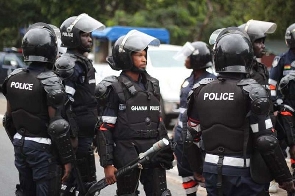 The Former Member of Parliament (MP) for Builsa North, Timothy Ataboadey Awontiirim, has weighed in on recent claims against the Inspector General of Police (IGP), emphasizing the importance of merit-based promotions within the police force.
His statement comes in response to allegations filed by 40 retired officers who asserted that their promotions have been delayed by the IGP.

"If you do your work well, you will be promoted in the police service" he emphasized.

In an interview on the GTV breakfast Show on the 20th of September, 2023 he advocated for a higher standard of professionalism among police officers and urged them to curb inappropriate behavior.

"I want to see professionalism on behalf of the police, and they should put a stop to some inappropriate behaviors portrayed by some of them." He added.
Addressing concerns about promotions in public offices, he asserted that there is room for improvement in ensuring that promotions are based on merit.

He also commended the current IGP for his efforts to enhance the quality of the police force in the country and emphasized the need for support, highlighting the positive impact the IGP has had on instilling discipline within the police service.

"Under the leadership of the current IGP, it would be increasingly difficult to misuse the police force for destructive purposes. He emphasized the importance of having a professional and compassionate police force that operates with knowledge and impartiality.

The discussions regarding promotions within the police service and underscore the significance of professionalism and meritocracy in ensuring the effectiveness of law enforcement.