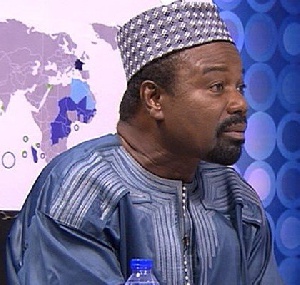 International Relations Expert, Dr Vladimir Antwi Danso, has cautioned government to oppose the coercion from the United States to sanction the deportation of some Ghanaians from America.
The US government is threatening to impose visa restrictions on Ghanaian citizens over government's failure to issue documents for their deportation.

According to the US government, the West African nation has not been proactive in issuing travel documents to Ghanaians awaiting deportation in the USA hence the threat.

"In December 2016, the U.S. Department of Homeland Security (DHS) identified Ghana as being at risk of non-compliance on removals of those under deportation orders. Since then, the U.S. government has repeatedly engaged the Government of Ghana in both Washington, D.C., and Accra and has urged the government to abide by its international obligations and issue the necessary travel documents so that Ghanaians under deportation orders may depart the United States on commercial flights.

"If Ghana fails to comply with international obligations regarding the issuance of travel documents, the United States may be forced to begin implementing visa restrictions on Ghana, in accordance with U.S. law," the US Embassy in Accra said in a statement Wednesday.
The Minority in Parliament and the Foreign Affairs Committee have questioned the justification of the visa restriction threat from the US.

But International Relations Expert Dr Vladimir Antwi Danso in an interview with Starr News said the government must engage the US government to resolve the impasse amicably.

"I do not think that the US is right in that kind of coercion because Ghana is a very friendly country we could jaw jaw and think about what to do with any other person whom they want to deport which is their right anyway but just as the Ambassador in the US has noted…the point is this, when the Ghanaians entered the US, they entered into a contract with the US government.

"it is only when there is a breach of that contract that they can be deported so our Ambassador is saying, how do I know they are Ghanaians at all, why don't they have document. So we don't have to be coerced I think we should continue to be jaw jawing and this coercion is just bad."