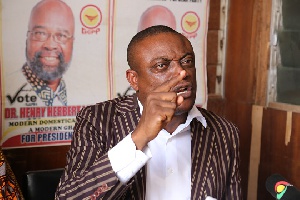 Private legal practitioner, Maurice Ampaw, has said the cancellation of the compulsory towing levy by the Government of Ghana has undermined the authority of Parliament.
According to him, Parliament, in its own wisdom, saw the need for the levy hence passed it. Therefore, the executive should have implemented the levy.

Government has canceled the mandatory towing levy after a section of Ghanaians strongly opposed its implementation.

The policy would have imposed a mandatory fee on all vehicle owners in the country.

This was to help a towing company rid the streets of broken-down vehicles to ensure traffic safety and reduce accidents.

A statement from the Transport Ministry announcing the cancellation of the contract said: "The Government has decided not to implement the mandatory towing levy which was scheduled to have commenced on 1 July, 2017.
"This follows extensive consultation between the Minister of Transport and stakeholders in the transport sector."

The statement, signed by Transport Minister, Kwaku Ofori Asiamah, noted that: "Upon consultations consequent to the calls, Government has decided to seek a review of parts of the laws, specifically to achieve the following objective: removal from the law, the concept of a mandatory towing levy on all owners and persons in charge of motor vehicles and trailers."

But speaking in an interview with Paa Kwasi Parker-Wilson on the Ghana Yenson programme on Monday, Mr. Ampaw, who is a road safety ambassador, said: "This shows that they did not respect the decision of the law-making body which is Parliament. I think parliament should instruct the executive to go back and implement the law. Parliamentarians are the representative of the people and so the executive should respect them.

"I also think the National Road Safety Commission can go to the Supreme Court and compel the executive to implement the laws of the land because the court has a duty to ensure that the laws of the land are obeyed."