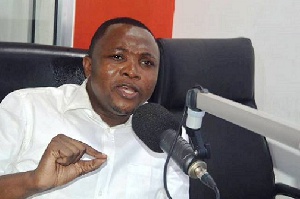 Ghana Football Association spokesperson Ibrahim Sannie-Daara has explained the indemnity and unclassified payments captured in its accounts is not meant to bribe referees.
Black Stars management committee Wilfried Osei suggested the country's refusal to bribe [pay unclassified payments] cost the nation a 2018 FIFA World Cup finals slot.

But that has been dispelled that by explaining unclassified payments catered for mobilising supporters for Black Stars matches and organise scouting and reconnaissance trips.

''We, as a football association, do not believe in the inducement and we have never been involved in bribery. We have never done such a thing before,'' Daara said on Happy FM.
''When a referee is appointed for a match, by default, you expect him to be fair. That is a given. If and when we do have issues with a referee, there are ways we can proceed.

''One of such means was the recent protest we filed against South African referee Daniel Bennett. CAF has modalities to deal with referees who do not perform well and we are satisfied with them.''