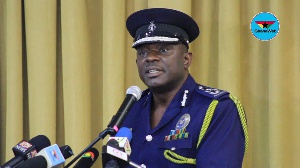 The Police Service has said persons going to withdraw huge sums of money at the banks should alert them for escort.
The announcement follows a robbery incident in Tema on Wednesday resulting in the killing of a Lebanese businessman who had gone to cash Gh¢200,000 from the bank.

The deceased Ahmed Safiadeen, aged 54, who is a cashier of Delta Agro Company, had gone to withdraw the whopping amount from the Tema Industrial Area branch of the Zenith Bank which was meant for salaries of workers and other factory expenses of the company.

There is a sense of insecurity in the country following the spate of armed robbery operations. Prior to the Tema incident, a gang of four robbers stormed the Royal Motors offices at Industrial Area in Accra and made away with Gh¢500,000 on Tuesday.
The spokesperson of the Police Service in Tema, Joseph Benefo Darkwa, said the police are ready to protect the public and will provide escort services for persons handling huge sums upon request. Meanwhile, security expert Dr. Kwesi Aning has shot down calls for the involvement of the military following the high number of robberies recorded in parts of the country.

The Minority National Democratic Congress (NDC) in Parliament has called for the immediate nationwide deployment of a joint military and police taskforce.

However, Dr. Aning believes involving the military will not be necessary. He is urging government to go beyond the mere talk of equipping the police.