General News Sat, 21 Jul 2018
Click to read all about coronavirus →
The Ghana Bar Association (GBA) has in a statement condemned the brutalities meted out by a police officer, identified as Frederick Amanor, on a woman at the Shiashie branch of the Midland Savings and Loans banking hall.
According to the GBA, the security of all citizens is not only a fundamental human right but it is integral to ensuring rule of law.

"Insecurity is a threat to the rule of law and undermines our democracy, hence it should have no place in our democratic dispensation."

In a video that went viral on Social Media, one police officer Frederick Amanor, is seen in a video striking a lady identified as Patience Osafo, who was holding her baby, multiple times on the head, first with an umbrella, and then with his fists.

He also attempted to violently drag her out of the building.

This, the GBA, however, noted that "Security officers who under the guise of maintaining peace and order attack, abuse and dehumanize citizen must not escape the arm of the law and victims of such brutalities must receive justice."


Read below the full statement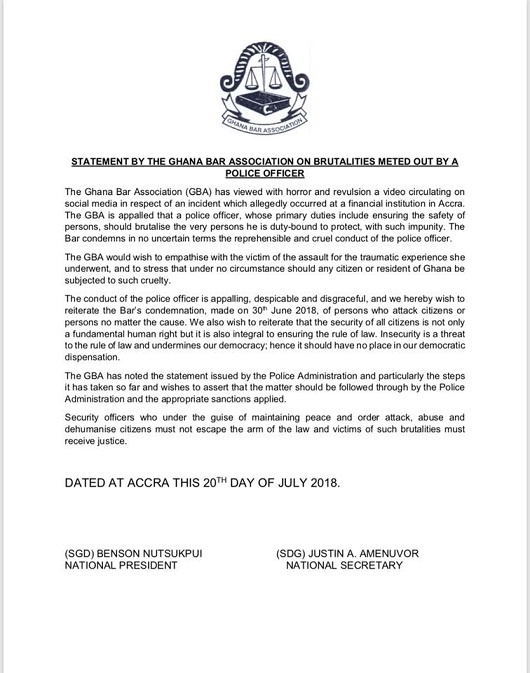 Send your news stories to and via WhatsApp on +233 55 2699 625.