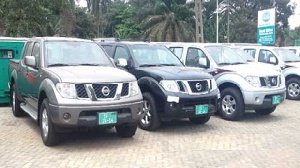 Pressure group OccupyGhana has written to President Nana Akufo-Addo to open an investigation into the sale and disposal of government vehicles prior to the change of power in 2017.
According to the group, it suspects breach of procedures in disposing of the vehicles and is disappointed that "we have not received the information we require on whether the procedures were followed, we have cause to suspect that the non-responsiveness is because the procedures were breached."

"We would find it unbelievable that within months of this amendment, government vehicles would still be disposed of without regard to the law. We do not believe that persons working for the government would dispose of, and others would acquire, vehicles under circumstances that would make them liable to prosecution under section 92(1) of Act 663.

"While expressing our disappointment that we have not received the information we require on whether the procedures were followed, we have cause to suspect that the non-responsiveness is because the procedures were breached.

"To ascertain this, we respectfully request that a full scale investigation be launched into how these vehicles were disposed of, with explanations on whether our Procurement laws were followed, and that these findings should be made public," OccupyGhana said in the letter to the president.

Below is the full letter:

July 17, 2018

His Excellency the President
Office of the President

Jubilee House

Accra

Dear Sir,

REQUEST FOR INVESTIGATIONS INTO THE DISPOSAL OF GOVERNMENT VEHICLES

Upon your assumption of office as President, a lot of issues came up with regards to the sale of government assets, especially vehicles allocated at the seat of government. Based on these, OccupyGhana® decided to take the issue up and ascertain how these vehicles were disposed of, and whether they were done in accordance with laid down procurement laws.

We therefore wrote to the Chief of Staff and the Administrator-General on 28th March, 2017 with ref no. OG/2017/001. Our letter demanded answers to the following, under our constitutional right of information under Article 21(f):
1. Were any government assets, particularly vehicles, disposed of between the 7th December 2016 election and the handover to the new government?

2. If so, is there a list of those assets, showing the persons to whom the assets were sold and for how much?

3. Was a Board of Survey convened with respect to those assets, and if so, who were the members?

4. Was a Technical Report on the assets to be disposed of prepared for the Board of Survey, and if so, may we have a copy?

5. Did the Board of Survey prepare and submit a report on the assets and the best method of disposing of them, and if so may we have a copy?

6. Did your office complete a Board of Survey form, and if so may we have a copy?

7. Were the Board of Survey's recommendations approved by your office, and if so may we have a copy of the written approval?
8. Were any of the assets deemed unserviceable for reasons other than fair wear and tear, such as through accident or expiry, and if so was a procedure established by the Board of Survey for handling losses, and was that followed before the assets were disposed of?

9. Were any assets classified as "obsolete and surplus", and if so were they;

a. transferred to other government departments or public entities, with or without financial adjustment, or

b. sold by public tender to the highest tenderer or public auction subject to a reserve price; and if so, may we have evidence of those disposal processes?

When we did not receive a response from either office, we sent reminders on January 30, 2018, with ref. No. OG/2018/004.

This time we received a response from the Administrator-General on 7th February 2018 with reference number SCR/OAG/LSP/008/V.1/P.42 providing us with a schedule of vehicles sold, who they were sold to and how much they were sold for. He however stated that he could not provide information on whether the mandatory procedure for the Disposal of Stores, Vehicles, Plant and Equipment under Part 8 of the Public Procurement Act, 2003 (Act 663) was followed, and asked us to seek answers to this from the Office of the Chief of Staff. We have not heard from that office.

We are concerned because with almost every political transition, vehicles belonging to the government have been sold rather cheaply to political office holders, without regard to the procedure laid down by law for the disposal of government assets. Prior to 2016, the claim was that "vehicles" were not specifically covered under the mandatory procedure under sections 83 and 84 of Act 663.
It was to address this apparent lacuna in the law that section 83 of the Act was specifically amended, and section 83A specifically introduced, by sections 44 and 45 respectively of the Public Procurement (Amendment) Act, 2016 (Act 914), so that the mandatory disposal procedure would without doubt apply to vehicles.

We would find it unbelievable that within months of this amendment, government vehicles would still be disposed of without regard to the law. We do not believe that persons working for the government would dispose of, and others would acquire, vehicles under circumstances that would make them liable to prosecution under section 92(1) of Act 663.

While expressing our disappointment that we have not received the information we require on whether the procedures were followed, we have cause to suspect that the non-responsiveness is because the procedures were breached.

To ascertain this, we respectfully request that a full scale investigation be launched into how these vehicles were disposed of, with explanations on whether our Procurement laws were followed, and that these findings should be made public.

Yours in the service of God and Country

Kwaku D. Segbefia,

For: OccupyGhana®