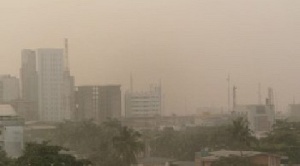 The Ghana Meteorological Agency has given some explanations for the recent unusual change in the weather conditions which has left many Ghanaians questioning whether the country was experiencing harmattan again.
The Meteorological Agency stated in a statement released on Friday, February 24, 2023, that harmattan has not returned as widely reported.

According to the agency, most parts of the country are still experiencing the 2022/2023 harmattan, which is expected to end in March.

It went on to say that the harmattan had been exacerbated by a cloud of dust that had traveled from central African countries.

"Meteorological Satellites captured dust raised around Chad, Sudan and Niger on Wednesday, February 15, 2023. This dust was carried by strong winds at the lower levels of the atmosphere into the country. This is the cause of the dryness and sudden reduction in how far one can see (visibility). These conditions take some time before clearing completely.

"Therefore, the conditions will persist during the next few days but with varied intensity. Relative humidity is expected to range between 15% and 60%. Visibility range of 200 meters to 5000 meters is anticipated," parts of the statement read.
The Ghana Meteorological Agency added that it predicted this weather pattern in statements it issued to the Ghanaian public in November 2022 and January 2023.

The agency urged Ghanaians to take some precautionary measures, including staying hydrated, covering food and water to prevent dust from settling on them, washing fruits before eating them, and wearing nose masks to protect themselves.

Read the full press statement below:



Meanwhile, catch the latest GhanaWeb TV Election Desk interview with Francis Addai-Nimoh, as he discusses his plans to become the NPP's flagbearer, below:




IB/OGB