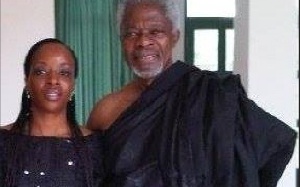 The children of the late UN Chief Kofi Annan have said it is difficult to say goodbye.
In a tribute to the former UN Secretary-General at a high-profile state funeral at the Accra International Conference Centre on Thursday, 13 September 2018, his daughter, Ama Annan described her father as a "man of generosity of spirit, who dedicated his life to others, put himself at their disposal and was one of the most loving people I know. He always made you feel welcome and listened attentively to everything you had to say."

Ama Annan said because of these qualities and many others, she considered herself "lucky" to have Mr Annan as a father and that makes it "hard to say goodbye".

Mr Annan died on August 8 at the age of 80 after a short illness.
His funeral was attended by world leaders across the globe.

Tributes have poured in from all over the world eulogising Mr Annan.