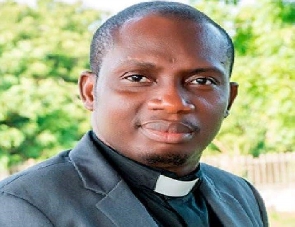 Counsellor Cyril George Carstensen Lutterodt has condemned all Ghanaians insisting that Pastors are supposed to provide for their poor church members during this period of coronavirus.
Most Ghanaians especially, social media users have argued that this is the time for Men of God to come to the aid of poor people in their Churches in view of the fact most are struggling to feed.

According to people who argue along these lines, the Churches have taken monies from these people over the years and therefore if there's a crisis and they cannot work to provide for themselves, it's imperative that the Church provides for them from its coffers.

But Counselor Lutterodt thinks otherwise. To him, the Bible does not spell out the fact but rather mentions that the congregants should be taking care of the Pastor during these hard times.

He mentioned that taking care of the vulnerable in the Church also does not rest on th shoulders of the Pastor but rather on the members of the particular church.
"Don't withhold from them the physcal things those who bless you spiritually," he said while defending why Pastors are supposed to be fed by congregants during this period and not Pastors feeding their poor Church members.

"We are not in normal times and it is the time you need spiritual divine covering and it's coming from me the Pastor and not from you the congregation. If you're hungry who must feed you? The one who collects your taxes must feed you and that's the government and it is doing just that. Eat the government food."