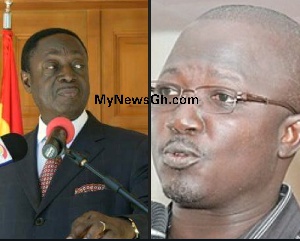 Managing Editor of the Ghanaian Lens and a former National Propaganda Secretary aspirant of the National Democratic Congress (NDC), Godson Kobla Agbeli Fiagbe has taken to social media platform Facebook to mock Dr Kwabena Dufuor Snr over the collapse of Unibank.
The NDC-aligned journalist accused the NDC big man of funding Akufo-Addo's campaign during the 2016 election for which it served him right for his Bank to collapse under an Akufo-Addo government.

The journalist and NDC communicator in a Facebook post which has since been pulled down wrote:

"Good morning Dr. Kwabena Duffour. Those you helped to get JM out of power have turned their guns on you and your son, Kwabena Duffour Jnr.

"Hopefully, Akufo-Addo will remember your contribution to his victory and intercede on your behalf.

"Always bear in mind that the seeds of betrayal, once sown, begets betrayal. In other words, betrayal has never begotten fidelity. Enjoy the rough ride while it lasts, sir. Hate can't win. #makaamaka"

It has been speculated that Dr Kwabena Dufour, a former Minister of Finance harboured presidential ambitions.
The Bank of Ghana moved in to take over the management of Unibank "to protect depositors' funds".

The Bank of Ghana announced that it has appointed audit firm, KPMG as administrator for uniBank taking over the assets and management of uniBank.

The Bank of Ghana assured members of the public who have deposits at Unibank to harbour no fear or panic over the announcement of the takeover of the Bank.

The Bank of Ghana assured the General public that the takeover, actually, was to protect their deposits and was assuring the public to be calm.

The Bank of Ghana Governor addressing the media said:

"The Bank of Ghana takes this opportunity to reassure customers of UniBank that all deposits they have with UniBank are, and will remain, safe and that they can continue to do business at any of its branches."
"NO DEPOSITOR OF THE BANK WILL LOSE ANY MONEY (sic)", the written statement analysed by MYNEWSGH.com indicated.

According to the Governor of the Bank of Ghana, Dr. Ernest Addison uniBank is currently insolvent.

Dr. Ernest Addison at a press conference stated KPMG has been appointed to manage the bank to save it from collapse.

"Allowing the continuation of UniBank's activities in their current form would be detrimental to the interests of depositors and the banking system as a whole. Several attempts by the Bank of Ghana to work together with management and shareholders of the bank to address the capital deficiency and liquidity challenges have failed to achieve the desired outcome, making the continuous reliance on Bank of Ghana for liquidity support unsustainable.", he said.