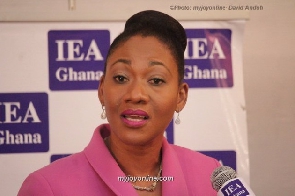 The Coalition of Domestic Election Observers (CODEO) has welcomed the nomination of four individuals to fill various positions at the Electoral Commission (EC) of Ghana.
President Nana Akufo-Addo, on Monday 23 July 2018, named Mrs Jean Mensa, Executive Director of the Institute of Economic Affairs (IEA), as the new Chair of the Electoral Commission (EC) of Ghana.

The newly-appointed deputies are a political science lecturer at the University of Ghana, Dr Eric Asare Bossman; and Samuel Tettey, Director of Electoral services in charge of elections at the Electoral Commission. Also Ms Adjoa Esuama Abrefa, a corporate legal practitioner with specialisation in land property acquisition, was named as a member of the commissioner.

The National Coordinator of CODEO, Mr Albert Arhin believes "it is a step in the right direction because the Commission urgently needs direction".

Mr Arhin told Valentina Ofori Afriyie on Class91.3FM's 505 news programme that he is sure the president conducted extensive consultations before making the nominations.
He pointed out that Mrs Mensa has worked at the IEA for a long time, and, so, the president "might have seen some quality in her".

Mr Arhin praised the president for nominating another woman to replace Mrs Charlotte Osei.

"I'm particularly glad about the fact that this guy, the Director of Electoral Service, has been put there because he is definitely going to be the link between the old and new. He has been in the job for some time now and I believe they intentionally put him there to serve that purpose," he added.

He was of the view that the nomination has been timely because there is a lot of work to be done by the EC.