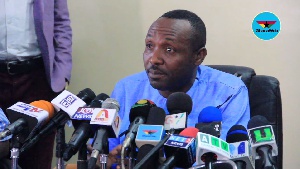 The General Secretary of the New Patriotic Party (NPP), Mr John Boadu has stated that the governing party has nothing to say about the appointment of Mrs Jean A. Mensa as the new chair of the Electoral Commission (EC).
President Akufo-Addo named Mrs Mensa, Executive Director of the Institute of Economic Affairs (IEA) as the new Chair of the EC with her deputies being political science lecturer at the University of Ghana, Dr Eric Asare Bossman and Samuel Tettey, Director of Electoral services in charge of elections at the EC pending approval by the Council of State.

The appointments follow the dismissal of EC Chair Charlotte Osei and her two deputies Amadu Sulley and Georgina Opoku Amankwah.

The main opposition National Democratic Congress (NDC) and its Minority in parliament, have kicked against Mrs Mensa's appointment, describing it as a move by President Akufo-Addo to rig the 2020 elections. They have described Mrs Mensa as a pro-NPP person who is not neutral to occupy that position.

The People's National Convention (PNC), led by its National Chairman Bernard Monah shares the same sentiments.



Reacting to the development on the Executive Breakfast Show (EBS) on Class91.3FM on Tuesday, 24 July 2018, Mr Boadu said those kicking against Mrs Mensa's nomination should prove she is incompetent for the job.
He told show host Moro Awudu that: "Primarily [this position] is about competence, integrity and neutrality, and any of them who are kicking against [it] should prove that these criteria, the person does not have it. With such argument, then we'll also be able to discuss, but for someone to say: 'I have quarreled with the person one time or the other, or my organisation had difficult with her organisation, so, all individuals coming from that organisation should not hold public position, I don't think is fair.'"



Stating the NPP's position on the appointments, Mr Boadu said: "We have no position really. It's the constitution of our country. We've lived with it for the past so many years since the inception of the fourth republican constitution and this is a process that has gone on with Afari Gyan…Charlotte Osei, even her, with all the difficulties, we had difficulties, but we lived with it until they themselves quarreled and brought issues among themselves that necessitated workers of the commission to petition the president and the president had to go through the process as prescribed by the constitution.

"So, I don't see anything different from what we are doing until I have with me evidence that makes either Jean Mensa or any other person appointed incompetent or lack neutrality or integrity, then we can proceed on that."