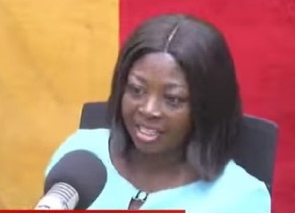 Lawyer Barbara Serwaa Asamoah, the deputy general secretary of the National Democratic Congress (NDC), has slammed the Electoral Commission of Ghana (EC) for its behaviour towards the NDC.
According to her, the commission needlessly attacks the NDC any time it raises issues about Ghana's electoral system.

Speaking in an interview on Power FM on Wednesday, monitored by GhanaWeb, Lawyer Asamoah accused some officials of the EC, including its chairperson, Jean Mensa, and deputy, Dr Bossman Asare, of playing by the rules of New Patriotic Party (NPP) national executives.

"Jean Mensa is more than an NPP women's organiser. As for Bossman, we all know he is a patron of Tescon and now he has added the NPP organiser position. Also, their PRO is now the General Secretary of the NPP.

"Their behaviour is what gives us something to talk about. Since that era of Afari-Gyan people have been raising issues about the actions of the EC, but the EC never insults them back. When we were in power, during the time of Afari-Gyan when the NPP raised concerns, nobody attacked them.

"Their concerns are listened to, and if need be, actions are taken. This is how we bring about reforms. But as for this Electoral Commission, as soon as you make a statement about them, they will come out and attack you," she said in Twi.
"As we are talking now, if they are listening to Power FM, they would come and respond," she added.

The NDC deputy general secretary made these remarks while reacting to the recent war of words between her party and the EC.

In a statement he issued, Sammy Gyamfi raised alarm over an alleged plot by the ruling New Patriotic Party (NPP) and the Electoral Commission to insert the name of an unqualified candidate into the party's voters' register.

The purpose of this alleged illicit move is purportedly to enable Charles Opoku to participate in the NPP parliamentary primaries for the upcoming Assin North by-election.

According to Sammy Gyamfi, this action directly violates the nomination form requirement for the Assin North by-election, which explicitly states that a candidate must be a registered voter in the Assin North Constituency.
However, Charles Opoku, according to Sammy Gyamfi, is not a registered voter in Assin North.

The EC, in turn, slammed the NDC national communication officer for the allegation he made.

"This current allegation is no different. It is baseless and unfounded and a figment of the imagination of the National Communication Officer. We call on all well-meaning Ghanaians to ignore it.

"Ghana's democracy has come of age and we call on Sammy Gyamfi to exercise maturity, decorum and truth in his discussions on the EC. We urge him to go out and campaign and leave the EC alone," parts of the statement read.

Watch the interview in the video below:


Also, watch the latest episode of GhanaWeb Election Desk on GhanaWeb TV below:





Meanwhile, watch the first episode of Everyday People on GhanaWeb TV below:


IB/OGB