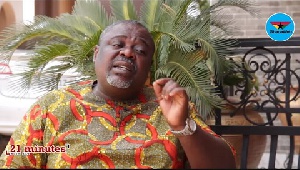 The Deputy General Secretary of the National Democratic Congress Koku Anyidoho says Mrs. Jean Adukwei Mensa who has been announced as the chairperson of the Electoral Commission (EC) cannot dissociate herself from being a member of the New Patriotic Party (NPP).
He contended that the circumstances and the processes through which the Chief Executive of the Institute of Economic Affairs was given the top EC job smacks of foul play on the part of President Nana Akufo-Addo.

"The circumstances under which Nana Akufo-Addo and his government succeeded in using all kinds of back door tactics to walk Charlotte Osei, Amadu Sulley and Georgina Opoku Amankwah out, and then walking Jean in through that same door, how can Jean tell me she is not NPP?," Mr. Anyidoho asked Tuesday on 3FM's Sunrise morning show.

Commenting on the nomination of Mrs. Mensa, he said he feels "sorry for her" in the circumstance, and that Nana Akufo-Addo has succeeded in politicizing the Electoral Commission.

Mr. Anyidoho argued that though Mr. Mensa is competent for the job, she would have to deal with issues of credibility at the EC because of events leading to the removal of the former EC Chair, Charlotte Osei.

"Nana Akufo-Addo has created credibility problems for Jean Mensa, and those credibility issues have nothing to do with her competence. It is not about competence, nobody can question the competence of Charlotte Osei, Jean Mensa or Bossman Asare. The issue is about the modus operandi, the style," he explained
Koku Anyidoho stated that the NDC has no fear of numbers being tweaked in favour of the NPP in the 2020 general elections to be conducted by the EC, but said the party is worried about the 'immoral' manner in which the appointment of the new EC Chair was done.

He said the approach by the president could set a bad precedent for other political parties.

"Going forward, will it be wrong for other political parties to also tow the line of Akufo-Addo? So NDC comes to power in 2021, so then we go and get two drivers to petition against Jean Mensa, then one moment Jean Mensa is out. Is that the kind of EC we want to run?" he queried.

When pushed further to establish whether that is what the NDC intends to do should it win power, he declined to answer.