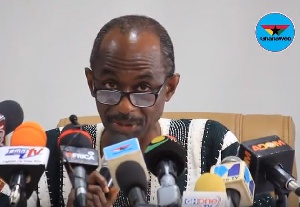 This follows the party's decision to boycott the maiden Inter-Party Advisory Committee (IPAC) meeting to deliberate on the limited registration of voters.
According to the NDC, it boycotted the meeting due to late invitation.

"The former commissioners were removed from office for incompetence and now they've been replaced with very competent Electoral Commission and that Commission's members will give a notice of forty-five minutes for an IPAC meeting and be inviting political parties to meetings through text messages. Even that one in less than 34 hours.

"We're not in a position to know whether we're the only political party which is being treated like that, if we're the only party which is being treated like that then it confirms our suspicion that the Electoral Commission does not intend to be a fair commission. We have reason to believe that NPP was well informed ahead of this day to prepare. And if the EC is going to be in cahoot with the ruling party and be treating us like this, then we cannot be part."

Meanwhile, Political Scientist at the University of Ghana, Prof. Ransford Gyampo has urged the EC to reconvene the IPAC meeting and engage the NDC to be represented.