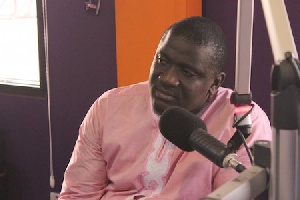 A Deputy Director of Communications for the largest opposition New Patriotic Party (NPP), Anthony Karbo, has accused former Presidential Press Secretary, Andrew Awuni, of deserting the party when his services were needed most.
The livid Karbo recounted how in the run-up to the 2012 general elections, Mr Awuni ditched the NPP when it wanted him to use his expertise as a communications specialist to help propagate the party's programmes and policies to the electorates.

He made the comments following Mr Awuni's outburst against the Chairman of the NPP Council of Elders, CK Tedam, describing the over 90-year-old as a liar.

Andrew Awuni, a former spokesperson of President John Kufuor, has accused the chairman of the Council of Elders of the New Patriotic Party (NPP) of peddling lies to disgrace suspended national chairman, Paul Afoko.

Tedam claims Afoko was suspended because he failed to call National Executive Committee meetings among others. He accused the embattled chairman of being arrogant for allegedly walking out on them on several occasions.

"I feel sorry for him [Tedam]," Awuni stressed. "He is lying. I'm not sure C.K Tedam knows Afoko's house."
Awuni, a personal friend of Afoko, argued on the Ghana Report show that "no chairman in the NPP since 1992 has held more meetings than Mr. Afoko."

"Let the old men stop lying," Awuni told host Bernard Avle on Monday.

But speaking to Kwaku Owusu Adjei on Si Mi So on Kasapa 102.3 FM, Anthony Karbo criticized Mr Awuni for finding his voice only when his friend, the suspended National Chairman, had issues with the party.

"In 2012, we called on Mr Awuni to come and help with the party's communications aspect of our campaign because he was skilled and had been in government before and knows the achievements of President Kufuor but shockingly he declined. He told us he had stopped doing politics and was now doing NGO work.

He now finds his voice and speaks against party heavyweight, C.K Tedam, whose youngest child is even older than him Awuni. If he has now decided to talk about NPP matters, he should know how to talk and not disrespect the elders of the NPP".