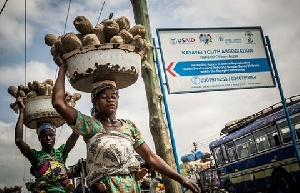 Sulemana Braimah, Executive Director of the Media Foundation for West Africa (MFWA), has said the imposition of a tax on itinerant head porters (kayayei) was an act of inhumanity.
According to him, such a toll should not have existed in the first place for it to be abolished by the New Patriotic Party (NPP) government.

Finance Minister Ken Ofori-Atta, presenting the 2017 budget to parliament on Thursday March 2, announced that it would scrap market tolls paid by kayayei, as itinerant head porters are locally known.

The toll is among several taxes lined up by the government to be scrapped completely or reduced so as to bring relief to the ordinary Ghanaian and the business community.

Commenting on the decision on his Facebook page Friday 3 March, Mr Braimah said: "The imposition of a tax on kayayei was clearly an act of man's inhumanity to man, and an act of cruelty. So that tax shouldn't have been imposed in the first place, period. What should be removed is the kayayei phenomenon itself.
"It should not even exist for us to be talking about taxes on it or removal of same. It should be a scar on our conscience that at this stage of Ghana's development, after 60 years of independence, we still have young women whose means of survival is to carry heavy loads on their heads in our cities. I mean young women! It is completely indecent and an assault on our pride as a nation.

"The young women, almost entirely from the three regions of the North, resort to [carrying loads] not as a matter of choice. They do so as a means of survival. Let no one tell me they make a lot of money. Those who argue that way may justify prostitution on the same grounds but will threaten mayhem if their daughters were to opt for 'kaya' or prostitution as a means of making a lot of money. The poverty and lack of opportunities that drive the young women into 'kaya' is what has to be confronted and dealt with. I hope we will do so as a nation.

"So here comes a challenge to Ms Otiko Afisah Djaba. She is our Minister for Gender. She is from the north of the country where the kayayei come from. She has an opportunity to push for an end to the menace before anyone thinks of using the words she used on former President Mahama for disappointing people from the North against her. I hope Otiko will push and we will support her.!!!"