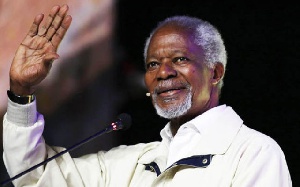 In 2002, the Asantehene, Otumfuo Osei-Tutu II, conferred the title Busumuru, the highest traditional honour of Asanteman, on Kofi Annan in recognition of his service to humanity.
"I and the entire Asanteman have decided to add the Busumuru title to your name because of your selflessness contributions to humanity and promotion of peace throughout the world," the Asantehene said when he placed a symbolic gold necklace around Kofi Annan's neck amidst traditional drumming.

Busumuru is the name of the Golden sword used by the Asantehene to swear allegiance to the Asante Kingdom at Kofi Annan's coronation.

Nana Baffour Domfe Gyeabour III, Asantehene's Nsumankwaahene (sub-chief in charge of gods) briefing the Ghana News Agency, said Busumuru was the name of one of the swords used to swear, it was a symbol of war and used at the war front in the olden days.

"Busumuru is the highest of all the swords held only by the Otumfuo, the King of the Asante, to perform certain traditional rites.

"So in that sense, it is the highest title of nobility conferred on an individual by his royal highness, the Asantehene," Nana Gyeabour said.
He said other titles such as Katakyie was conferred on Brigadier Lieutenant-General Akwasi Amankwaa Afrifa, former Head of State.

Kofi Annan, as he is fondly called by all, was born on April 8, 1938, at Kumasi, the Ashanti Regional Capital.

He started working for the United Nations in 1962 as a budget officer for the World Health Organisation (WHO), a UN Agency.

He worked with the UN until a break from 1974 to 1976, when he worked as the Director of Tourism in Ghana.


For a nine-year period from 1987 to 1996, Kofi Annan was appointed to serve as an Assistant Secretary-General for three positions: Human Resources, Management and Security Coordinator; Programme Planning, Budget and Finance, and Controller; and Peacekeeping Operations.

The UN Security Council recommended him to take the mantle after Dr Boutros Boutros-Ghali of Egypt, in 1996 and the General Assembly approved him, through voting, and he began his first term as Secretary-General of the UN from January 1, 1997.

Some of the major achievements were his issuance of a five-point Call to Action in April 2001 to address the HIV/AIDS pandemic and his proposal to create a Global AIDS and Health Fund.

He and the UN were jointly awarded the Nobel Peace Prize in December of 2001 "for their work for a better organised and more peaceful world."