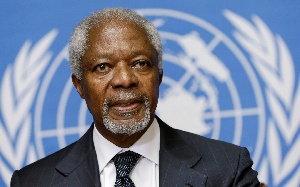 Leaders of the Economic Community of West African States (ECOWAS) have posthumously presented the late Kofi Annan with the 2018 ECOWAS Excellence Honorary Award for Distinguished Personalities for his immense contribution to the objectives of ECOWAS in the area of security, peace and socio-economic development.
The presentation ceremony on Saturday, 29 June 2019 was part of the opening ceremony of the 55th Ordinary Session of Heads of State of ECOWAS in Abuja, Nigeria.

Mr Annan served as the seventh Secretary-General of the United Nations from January 1997 to December 2006.

Mr Annan and the UN were the co-recipients of the 2001 Nobel Peace Prize. He was the founder and chairman of the Kofi Annan Foundation, as well as chairman of The Elders, an international organisation founded by Nelson Mandela.

He died on 18 August 2018, aged 80, in Bern, Switzerland.
Other personalities recognised at the award ceremony posthumously include Dr Ameyo Adadevoh from Nigeria, for her sacrifice and selflessness to the community during the outbreak of the Ebola Virus.

She was presented with the 2018 ECOWAS Excellence Honorary Award for Deserving Citizen of the Community.

In addition, the 2018 ECOWAS Excellence Honorary Award for Arts and Letters was presented to Madame Germaine Agony from Senegal, for the quality and richness of her artistic production, recognised in several ECOWAS Countries.