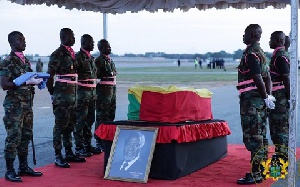 Some Ghanaians who filed past the remains of the late former Secretary-General of the United Nations (UN), Kofi Annan, on Tuesday, 11 September 2018, expressed disappointment that the casket was covered.
The ordinary citizens, who visited the Accra International Conference Centre hoping to see Mr Annan's face for the last time as they paid their last respects, were left saddened by the turn of events.

They wondered why organisers did not open the casket to allow those of them who never had the opportunity to see the man alive, do so before he is buried.

Mr Annan's casket was closed and draped with the national flag.

Deputy Information Minister Pius Enam Hadzide explained in an interview with Class News that Mr Annan's wish was to have a modest funeral.

"There are high-profile funerals that I've attended that I've seen the casket covered even in this country and, so, it's not a major problem; the important thing is that you see the family sitting in state, and, so, the man Kofi Annan himself is a modest person, and, so, he doesn't want a lot of flamboyance around the funeral with a lot of frills.


"Yes, this is a state funeral, we admit, but even as we give him a befitting state funeral, we think that it is still important that we respect his wishes of keeping it a little modest, a little soft and so far, it's been very good.

"We all know the kind of person Mr Kofi Annan [was] and I think that the way it has been arranged is just perfect. In any case, the casket is wrapped in the national flag, and, so, that is what is critical to us and maybe it is the design that makes it difficult for you to want to open it up and so on and so forth," he stated.

On Wednesday, 12 September, dignitaries including recognised groups, chiefs, Members of Parliament and Ministers of State, world leaders, will have their turn to pay their last respects to the former UN boss.

A burial service will be held on Thursday, 13 September at the Accra International Conference Centre, followed by a private burial at the new military cemetery with full military honours and a 17-gun salute.