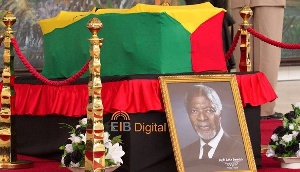 If there could be good news in the midst of bad news, then the boost to the tourism potential of Ghana in the event of the death of Ghana's top diplomat Kofi Annan is what Minster for Tourism, Arts and Culture, Catherine A. Afeku is drawing attention to.
She was speaking at the forecourt of the Accra International Conference Centre (AICC), where the former U.N Secretary General is being laid in state.

She has described Mr Annan as a "consummate diplomat and an honourable person who will forever remain in history…"

"He was a true African. His behaviour meant he was a consummate diplomat. We have lost an illustrious son. He is an honourable person and it will remain history that we buried an illustrious son in the continent…"

"He has made his name. People will come to Ghana to look at his tomb. These are the things that will enhance and boost the transportation of our export…" she said.
Asked if the iconic Ghanaian's death has an impact on her sector, the tourism industry, Madam Afeku answered in the affirmative; that people will travel from all over the world to see the global icon's final resting place.