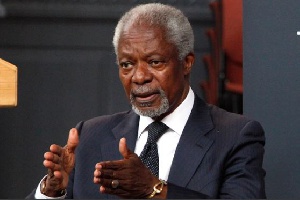 Kofi Annan's name has been trending in Kenya amid the East African country's political standoff where the Wiliam Ruto-led government is seeking to make peace with the Raila Odinga-led opposition amid recent violent protests.
Annan, a former United Nations Secretary General's name came up yesterday when veteran opposition leader Odinga mentioned him at a press conference to outline how the opposition will approach peace talks with the government.

Asked whether the Azimio Coalition which he leads was ready for the talks and whether he was ready for the leader of opposition role if it is floated, he responded:

"Yes, we know who is going to represent us, it has been suggested that we have a committee of fourteen, seven – seven from Parliament, both Houses of Parliament.

"But we are saying that this process, we want it to be akin to process that was led by Kofi Annan,@ he said.

The Kofi Annan reference is to the role the former diplomat played in brokering peace in the aftermath of Kenya's 2007 elections when Odinga insisted he had been cheated of victory by then president Mwai Kibaki.

Annan's intervention under the auspices of the African Union (AU) Panel of Eminent Personalities to Kenya, led to to a unity government of sorts where Odinga took office of Prime Minister.
It is believed that the talks also led to the promulgation of the current 2010 Constitution of the Republic of Kenya.

Odinga said during the interview that the Kofi Annan process was to ensure that the talks will be largely people driven.

"That we are going to have Members of Parliament but they are going to sit outside Parliament and they will negotiate and only take the final product to Parliament as an accord, it will then be passed by Parliament," he stressed.

Odinga lost August 2022 elections to president Ruto but has since refused to recognize the legitimacy of the president. He led recent protests against high cost of living and also what he called witch hunt of some Electoral Commissioners.

He is also demanding that election servers be opened for Azimio to ascertain the true outcome of the 2022 elections even though analysts say the Supreme Court made such orders during his election petition which was dismissed unanimously.


We want this process to be akin to the process that was led by Kofi Annan… We want it to be a people-driven process - Raila Odinga pic.twitter.com/1qLsS87PHj

— Citizen TV Kenya (@citizentvkenya) April 4, 2023