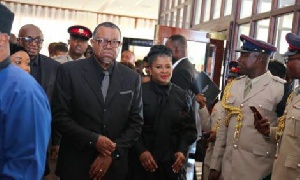 President of Namibia, Hage Gottfried Geingob has paid glowing tribute to the late former United Nations Secretary General, Kofi Annan, attributing the success of the diplomat to his "exceptional work ethic."
"It is a great honour to recount the exceptional work-ethic and perseverance which allowed Annan to transform the organization," the Namibian leader said in a tribute to Mr Annan.

President Gottfried Geingob who joined many Presidents and heads of governments and dignitaries around the globe in Ghana's capital, Accra to pay their last respects to the man they so loved, credited Kofi Annan with introducing reforms at the UN which made the body more effective and less bureaucratic.

"Among his most notable achievements was the introduction of numerous reforms aimed at making the United Nations less bureaucratic and more effective. Today, as Africa continues to demand greater reforms at the United Nations, we pay tribute to Kofi Annan, whose outstanding diplomatic skill enabled him to establish himself as a global diplomatic icon and humanitarian par excellence," he said.

President Geingob while a diplomat at the United Nations met and worked with Mr Annan. According to him, "Annan's road towards international diplomatic accomplishment began in 1974, when he became chief civilian personnel officer in the UN Emergency Force in Cairo, Egypt. It was around the same time when I had also joined the United Nations as a Political Affairs Officer, and came to know him," he said in his tribute to the Ghanaian.

Relating the sentiments of the people of Namibian to Ghana, Mr Geingob said Mr Annan's life was an inspiration to many and lived out the true meaning of a Black Star.

"In Namibia, we say that we are Africans before we are Namibians. We say so because Namibia is a child of Pan-African and international solidarity, midwifed by the United Nations. For this reason, we are honoured to pay tribute to this Black Star, who lived an admirable life, defined by a love for humanity, dedication to work and a never say die mentality," he observed.
His widow, Nane Maria Annan delivering her tribute said Mr Annan "always believed that his inner strength and sense of hope came from his deep roots here and I want to thank Ghana for giving us such an extraordinary human being.

The UN Secretary-General who was also in attendance, said the late Kofi Annan led new ideas and initiatives including the Millennium Development Goals.



"Kofi Annan was a guiding force for the good. During the tumultuous era in which he led the United Nations, he combined compassion, commitment and diplomatic skill to bring the organisation closer to the world's peace, build the foundations of peace and give life to the values of the Charter."

He described Mr Annan as a global leader, who brought the UN closer to the people.

Ama Annan described his father as a "man of generosity of spirit, who dedicated his life to others, put himself at their disposal and was one of the most loving people I know. He always made you feel welcome and listened attentively to everything you had to say."


Ghana's President, Nana Addo Dankwah Akufo-Addo speaking at the funeral service on Thursday said he was poorer for Mr Annan's death as he's lost a great advisor. According to him, "he gave me sensitive, deeply appreciated advice when I became President of the Republic."

Mr Annan died on August 18, 2018 in Switzerland. Family sources said he passed on peacefully in his sleep surrounded by his wife Nane Maria and children. He was buried at the military cemetery in Accra.