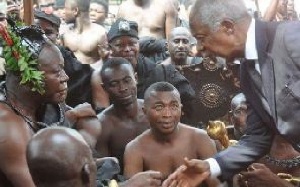 Asantehene Otumfuo Osei Tutu II has described the late Secretary-General of the United Nations (UN), Kofi Annan, as an excellent arbitrator.
In a tribute read on his behalf by Mamponghene Nana Daasebre Osei Bonsu II, the Asantehene, who conferred the title 'Busumuru' on the deceased after he retired from the UN, said Mr Annan was "a consummate mediator".

"Because of his monumental achievement as an international servant, Busumuru became a ready source of inspiration, an advocate and unwavering champion of peace and security, development, human rights and rule of law," the tribute added.

This was at a ceremony held at the Accra International Conference Centre (AICC) on Wednesday, 12 September 2018, pending the burial, on Thursday, 12 September 2018 at the Military Cemetery at Burma Camp, Accra, Ghana, of the seventh UN Secretary-General who died in Bern, Switzerland.

"Busumuru touched many lives with his graciousness, charisma and commitment to the pursuit of worthy causes crying for global attention," the tribute added.

Day two of the three-day state funeral for the late former UN boss saw a display of Ghanaian culture from the chiefs and people of Akwamu, where he hailed, and also from representatives of the Asante Kingdom.
Traditional prayers, as well as rites and customs, were performed for the corpse before the Otumfuo's tribute.

Busumuru is the name of the golden sacred sword, the highest sword of office used by the Asantehene to swear allegiance to the Asante Kingdom. The sword can only be held by its custodian and the Asante King.