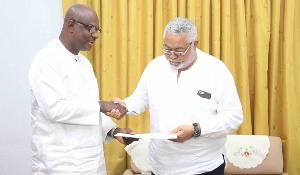 Former President Jerry John Rawlings has described the emergence of Kojo Bonsu a former mayor of the Kumasi Metropolitan Assembly (KMA) as one of the contenders of the party's flagbearer as refreshing.
He disclosed that Kojo Bonsu is not only a leading member of the party but the fact he is an Ashanti an area which provided a very dynamic presence during the revolution days makes it refreshing.

Speaking during the call on him by the National Democratic Congress (NDC) flagbearer aspirant, the founder of the party said "Not only is he a leading, active, prominent member of the party, but the very fact that he's an Ashanti for me is quite refreshing. Some of our narrow-minded colleagues from the past did not handle the Ashanti factor well enough. The Akan speaking areas of Ashanti provided a very dynamic presence during the revolution days"

He added that as the country entered multi-party constitutional rule in the early 1990s, some took advantage of ethnicity for political expediency. "There are those who can only play the politics of ethnicity so it began to weaken the nationalistic climate and fervor."
Flt. Lt. Rawlings said the role of party flagbearer required a strong tenacity of purpose and the support of a dedicated and committed crop of people who possess a high level of integrity.

Accompanied by his campaign team and some sympathizers, Kojo Bonsu who was integral in the organization of the post-2016 election unity walks by some leading members of the party, said the walks afforded him the opportunity to listen to the concerns of the grassroots supporters hence his decision to contest.