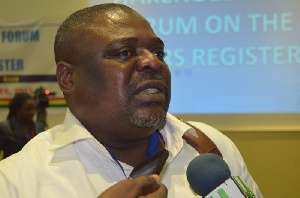 The Deputy General Secretary of the National Democratic Congress (NDC), Koku Anyhidoho, says New Patriotic Party (NPP) running mate, Dr. Mahamudu Bawumia is a pathological liar.
Speaking on Atinka AM Drive with Ekourba Gyasi, Koku said he is ready to debate Dr.Bawumia to further expose him as a liar , who is only interested in deceiving Ghanaians.

According to him, Dr Bawumia is the root cause of the montie three saga since he produced a fake Togolese register claiming that there are over seventy-six thousand Togolese names on the register.

He added that this situation led to Kennedy Agyapong's sex -for- job comments as well as the Montie three saga.
According to Koku Anyidoho, Bawumia is bent on destroying the image of the people of the Volta region

"If he is a man, he should come and debate me," he charged.