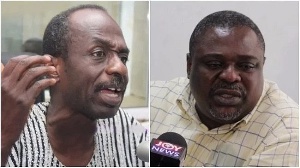 The General Secretary of the opposition National Democratic Congress (NDC) Johnson Asiedu Nketia has described the contest between him and his former deputy at the just ended National Executives election as a 'shadow boxing" after he annihilated Koku Anyidoho.
"If you are teaching your son boxing there will be a time there will be shadow boxing, he believed that he would win but I considered it to be shadow boxing so I don't think there was anything wrong and I still have confidence in him the way I did when we were going round first to campaign for him.

"I still think that there are good things in him that will be beneficial for the party. And so NDC is a big party he has a role to play in that organization, if you take my history you'll realize that anybody who contests against me or campaigns against me I try rather to get closer to that person to try and understand what are his reasons for disagreeing with me. It could be out of some lack of infirmation, it could be somebody maligning you which he believed and in most cases they turn out to be my campaign managers in subsequent elections," he told Joy FM.
Johnson Asiedu Nketia retained position as the general secretary over the weekend after he trounced Koku Anyidoho in a contest that many thought would have been keenly contested.

Out of the over 9000 delegates who voted, Koku secured 1,625 while Asiedu Nketia garnered 6,642 votes.