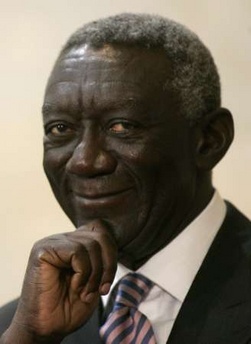 Managing Editor of the Insight newspaper, Kwesi Pratt Jnr. has posited strongly that currently, the New Patriotic Party (NPP) has no prominent leader like its former leader, Ex-President John Agyekum Kufuor.
According to him, despite Nana Addo Dankwa Akufo-Addo's pedigree, he and the other aspirants who intend vying for the party's flagbearer position, pale in comparison to Mr. Kufuor.

The seasoned journalist also believes comments by some of the party hierarchy, including its General Secretary, Lawyer Kwadwo Owusu Afriyie, that Nana Addo must contest at all cost on the NPP's ticket, might have influenced his (Nana Addo) decision to compete again.

"If Sir John wins the general secretary position, major decisions in the party will be based on him so choosing Nana Addo ahead of his declaration alone was bad. How is he (Sir John) going to work if Nana Addo fails (to be elected flagbearer)? These are issues that cannot be easily swept under the carpet," he said.

Nana Akufo-Addo on Thursday as indicated, announced his decision to contest the 2016 presidential election. According to Nana Addo, he is "humbled by the opportunities that I have had to contribute to the development of our nation, from the struggle against military dictatorship, through protecting the rights of ordinary Ghanaians in the law courts and on the streets, to the consolidation of our democracy and the projection of our national interest, first, in building the New Patriotic Party, and, also, as a member of parliament and cabinet minister".
He added: "With great humility, therefore, I can announce that, when the party opens nominations sometime this year, I shall be ready, God willing, to contest for the position of NPP presidential candidate for the 2016 general elections".

Discussing the issue on Adom FM, Kwesi Pratt said "Whether NPP will win election 2016 or not, that is not my case…it's their own case. They know the purpose of power. If they like it or not, cry or smile, there is no person in NPP like Ex-President Kufuor. He stands tall among them all".

"…President Kufuor is the only leader in the NPP who was elected and served his full term. That is history in the Danquah-Busia tradition. Kufuor is the first Danquah-Busia leader who won a free and fair election. The history is there but some NPP members don't respect him and his counsel because they claim he is against Nana Akufo-Addo," he added.