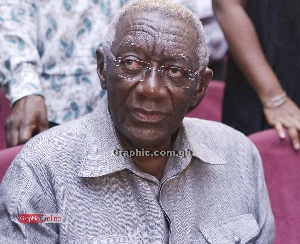 Former President, John Agyekum Kufuor, has poured cold water on the public outcry against the Comprehensive Sexuality Education (CSE).
According to him, the teaching of the subject would rather make children aware that they have to allow nature to mature them.

"With the improvement of educational standards, there is no way CSE will impact negatively on school-going children as being asserted by a section of Ghanaians," he said.

The former President made the remarks during a courtesy call paid on him by the management staff and pupils of ANJEF International School from Ashaiman at his residence in Accra.

His remarks followed questions posed by some of the pupils regarding his opinion on the subject; he expressed opposition to what he said is the negative perception about CSE.

The subject, he went on, would rather serve as a bulwark against gayism or lesbianism.
On the state of education in the country, the former President said it had improved but called on government to continue to work hard to improve the economy to sustain quality education.

He recognized the vast improvement in the standard of education in the country but was however skeptical of the continuous sustainability of the current standard if government failed to improve the economy to create more wealth to support the educational sector.

For his part, Abraham Kwasi Afarwuah, Chief Executive Officer (CEO) of the school, said the visit was to formally seek his blessings for the school and thanked him for his influence in the establishment of the school.

The CEO thanked Mr. Kufuor for accepting them to his residence and his good counsel.

The management and staff of the school presented the former President with a citation and a plaque for his tremendous contribution to the development of Ghana, especially education.