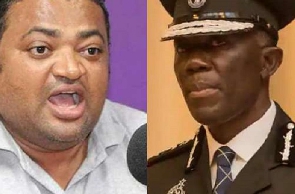 The National Organizer of the largest opposition NDC, Joseph Yammin has praised the Inspector General of Police, Dr George Akuffo Dampare, for delivering on his promises in relation to security matters in the Kumawu by-election.
According to him, the IGP on the eve of the Kumawu election gave assurances in a meeting that no other security agency will be involved in the election as has been the practice in other previous by-elections and delivered.

"Let me first commend the police for their professionalism. Going into the election my party knew I didn't believe we should put our hopes in the police. Even at the meeting with them before the polls I still didn't pay attention.

"At the meeting I asked the IGP what the military involvement in the election will be as has been the case in previous by-elections like Ayawaso and other places and he gave us the assurances that he has enough men and logistics at Kumawu and so he wouldn't need other security agencies and true to his words he delivered on that.

"We didn't see the military or the national security at Kumawu, it was the Police fully in charge. So today it will be unfair for me not to commend the IGP. He proved that indeed he wants the police to be the best institution in Ghana".
He made the comment in an interview on Kumasi-based Hello Fm on Wednesday.

Meanwhile, the New Patriotic Party (NPP) parliamentary candidate, Ernest Yaw Annim won the Kumawu by-election with over 70 per cent of the valid votes cast.

The votes collated by the Electoral Commission (EC) and declared Tuesday night had Ernest Yaw Annim winning with 15,264 votes which represented 70.91 percent.