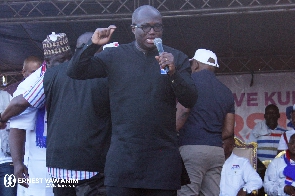 The newly elected Member of Parliament for the Sekyere Kumawu Constituency of the Ashanti region, Ernest Yaw Anim, has confessed that his party shared rice, and cloth among other voters.
According to him, persons captured in the viral video sharing cups of rice, cloth among other items were active members of the New Patriotic Party (NPP) based in Kumawu.

Mr. Yaw Anim disclosed this on Oyerepa TV while answering questions on accusations that he won the Kumamu by-election through dubious means.

"I saw the viral video and investigated the people behind the video and I noticed the people were NPP members who teach in Kumawu. They did that because of the love they have for me and the party. So on Mother's Day, they decided to do the donation on my behalf. So it was a Mother's Day gift. So what is wrong with that? Today when people buy cars for their mothers, they film it and share it on social media. This one was not meant for social media. It is unfortunate that some evil-minded people leaked the video just to accuse me of vote buying," he explained.

He urged Ghanaians to ignore what he described as NDC propaganda which seeks to undermine the NPP's victory against the NDC and Kwaku Duah, one of the independent candidates.
"In Talansi by-election the NDC did worse things there. They even share roofing sheets with electorates. I'm justifying what happened in Kumawu before and during the by-election but the NDC cannot accuse us of something they have done worse.

"On Monday 22 May 2023, I went to Nkwanta and Timati in the evening and an old woman told me that Mr. Ernest, the NDC campaign team, had just left my house. They gave me rice and GHC20.00. While thinking about it I said to myself, are they not the same people sitting on TV and radio accusing us the NPP of vote buying yet they are equally buying all over? I can say on authority that we the NPP didn't buy votes during the by-election," Mr. Yaw Anim narrated.

He further explained that "the cloth that we shared was a Mother's Day gift. We have lived with our mothers in Sekyere Kumawu Constituency for several years. On all-important Mother's Day, I received a lot of invitations from other groups in the constituency including Assembly Members, so the only thing I could do at the time God had blessed me like this was to give them something. The clothes we shared were not done in a divisive manner because all the widows in my constituency are NPP sympathizers."