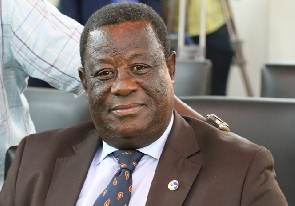 Sat, 10 Jun 2023 Source: GNA
Mr Kwasi Amoako-Atta, Minister for Roads, and Highways, has rebutted claims that work on the Kumawu roads has stalled after the Kumawu by-election.
"No machine has left the site, nothing has changed, and work is even progressing faster," he told the media after inspecting the progress of work.

He said, "Some Ghanaians are propagating that after the by-election the contractor has left the site and has moved all the machines away. You are witnesses of what you have seen today, the contractor is on-site and has even intensified the tempo of work."

According to him, the contractor had done massive work after the by-election not only in Kumawu but other major towns, which formed part of the scope of work awarded to Joshob Construction Company Limited.

"You saw all the sessional repairs and asphalted town roads work being undertaken by the contractor right from Juaben through Effiduase to Oyoko, Dadease, Wonoo to Kumawu, Bodomase, Besoro, and Woraso," he inquired.

Mr Amoako-Atta reiterated that the road project had already been programmed even before the passing of the late MP hence it was not true that it was meant to attract votes ahead of the by-election.

He expressed satisfaction at the pace of work and urged Ghanaians to be confident in the government.
"Road works will continue, and we will do it to the amusement of the people in this area. They deserve it, it is their turn, and we are going to deliver whatever we have promised," Mr Amoako-Atta assured.

He observed that about 3.5 km out of the first 5km, which formed the first phase of town roads in Kumawu had been completed.

The Minister commended the people in the area for trusting in the Government and "not believing the hearsay of some Ghanaians on the road network projects."

Barima Sarfo Tweneboah Kodua, the Paramount Chief of Kumawu in a remark when the Minister visited his palace, thanked the Government for delivering on the road project promises.

He tasked the Government to equip contractors adequately to be able to complete the project on time not only in Kumawu but other areas where road constructions were being undertaken.
Source: GNA