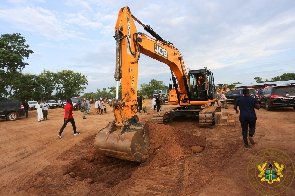 Ongoing road projects in the Kumawu constituency of the Ashanti Region have been halted, barely 24 hours after a by-election was held to elect a new MP for the area.
Ahead of the hot polls roads in the area were seen being shaped, raising concerns that the government was using that as a vote-buying tool to get the electorates to vote for the New Patriotic Party (NPP) candidate.

Power News checks on Wednesday, May 24, 2023, indicate that the heavy equipment that was busily shaping the bad roads in the district has all been moved out of site.

XYZ Ashanti Regional correspondent, Nana Appiah told Piesie Okrah on Power Kasiebo on TV XYZ Wednesday evening that "all the equipment used to fix the roads were nowhere to be found by Wednesday afternoon."

"My checks from Bodomase and all the areas roads were being fixed showed that construction of roads had been halted," Nana Appiah added.

He said the community members in the affected areas are livid about the sudden turn of events although they voted massively for the NPP candidate to retain the seat.

This development comes after the NPP newly-elected Member of Parliament for the Kumawu constituency, Ernest Yaw Anim, told news men the government is committed to completing ongoing road projects in the constituency.
Election Results

At the end of the by-election on May 23, 2023, Mr. Anim polled 15,264 votes, defeating the National Democratic Congress (NDC) candidate, Kwasi Amankwaa, and two Independent Candidates, both named Kwaku Duah.

Kwasi Amankwaa from the NDC garnered 3,723 votes, while one of the Kwaku Duah who deferred from the NPP and contested in the 2020 elections had 2,478 votes.

The other Kwaku Duah whose first attempt was during the by-election managed only 62 votes.

Speaking after his victory in the by-election on Tuesday, May 23, Ernest Anim assured that the government will not renege on its promise to fix all roads within the Kumawu enclave.