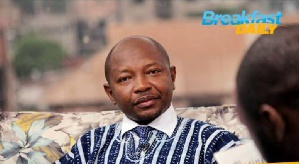 Tension is looming within the opposition National Democratic Congress (NDC) in Kumbungu as the constituency chairman and Member of Parliament (MP) are trading accusations over cash meant for the party branch executives.
Ras Mubarak who is the lawmaker and his Constituency Chairman, Abubakari Issaka nearly traded blows on a local radio station in the midst of accusations and counter-accusations over the diversion of funds during the recent visit of former President John Dramani Mahama to the region.

According to Ras Mubarak, Abubakari Issaka during the president's campaign tour of the region weeks ago, budgeted that 500 branch executives were supposed to show up at a meeting and was given a corresponding amount of GH¢5,000 for their transport and other overhead costs.

He, however, observed that the number that showed up was less than projected accusing the NDC leader of diverting part of the amount.

"We projected that 500 branch executives will attend the program and the party gave you GH¢5000 to give to these branch executives you need to give details of the budget and let the people know how you spent the money. How many delegates came there and how much did each received", he quizzed.

Continuing his claim he said "they were not up to 500 and even if they were how much will each receive? These are things that caused us to lose the Kumbungu seat to an opposition before we came crying to elders and they helped us win back the seat", he disclosed.

An angry Ras Mubarak who initially was hesitant on speaking about the issue on radio according to details in the audio obtained by MyNewsGh.com insists it is his responsibility to instill discipline in the party in the constituency.
"We cannot afford to lose the seat again to another party but these things are the recipe for such an occurrence", he warned.

But when reached to comment on the matter, Abubakari Issaka denied diverting the said cash as claimed by the MP and dared him to prove otherwise

In his account, he stated it is the norm where the MP always provide food for the executives and when they are leaving for their various homes, they are given GH¢ 10.00 each but this time around they decided to rather give them cash.

While accusing Ras Mubarak of deceit he also claimed he has not got the welfare of the branch executives at heart which is affecting the fortunes of the party, he threatened to a revolt if he fails to withdraw and apologise for his comments

"Per our calculations, we had 84 branches, hiring of canopies and chairs all amounted GH¢7,000 and he promised to give the balance when he comes to the constituency but he never did when we approached him after the tour', he claimed challenging Ras Mubarak to provide evidence that he spent the money meant for the party executives in the constituency or incur his wrath.