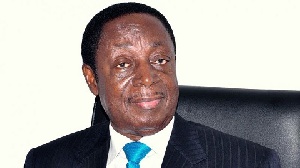 The Bank of Ghana (BoG) is not auctioning assets of its former governor Dr. Kwabena Duffuor to defray the cost of loans, a high placed source has said.
Documents making rounds on social media have it that the properties of the founder of distressed uniBank, which is currently being managed by KPMG upon the directive of the Central Bank, are being sold to new owners.

"We've not come to such conclusion," the official who pleaded anonymity said. "Duffuor is a respected personality in this country and we need to give him that respect because he has really sacrificed his entire life for the nation."

"Ignore the news making rounds. They are a figment of someone's imagination. Let's ignore those rumours and lies," the top official stated.

Meanwhile, a close associate of the Duffuors is on record to have said: "uniBank at the moment is under Official Administration by KPMG, who are now playing the role of Management. The Shareholders are supposed to collaborate with them in the process and I have information that they are collaborating very well at this stage."
"I understand the Shareholders are getting ready to inject a lot of money very soon to make the bank stand well on its feet!"

"The Official Administrator has been given a mandate by BoG and their time is not yet up. Why not contact them for any clarification instead of peddling falsehood," the associate said in reaction to the media reports.

Dr. Duffuor is also the founder, president, and adviser to his company, House of Duffuor Assets (HODA) Holdings, which houses over 15 companies across several industries – including real estate, insurance, banking, and more. Star Assurance, one of Ghana's largest insurance companies, is one of them. He worked for a number of banks (Governor of the Bank of Ghana 1997 -2001) and briefly with the International Monetary Fund (IMF), as an Economist in the African Department. His largest holding is in UniBank, one of the largest banks in Ghana, which caters primarily to high and low net worth clients but has since been taken over by Bank of Ghana.

Dr. Duffuor also founded the Institute for Fiscal Studies (IFS), a non-profit think-tank devoted to the provision of economic policy advice, after he exhibited grave concern about the fiscal policy decisions and management of Ghana's public finances.