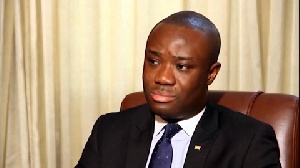 The wild allegations making rounds that a former Deputy Minister of Communications under the previous Mahama-led National Democratic Congress (NDC) administration collected $12 million for the Electoral Commission (EC), but pocketed half of the amount, do not appear to go away.
Although Felix Kwakye Ofosu, who is noted for his acerbic tongue towards his political opponents, has vehemently denied the allegations that he collected the money on behalf of the EC ahead of the 2016 elections, pressure is mounting on him to come clean over the matter.

He issued a statement last Saturday accusing some ruling New Patriotic Party (NPP) activists working at the presidency of spreading the 'falsehood' that he pocketed $6 million out of the $12 million package meant for the EC staff from the previous Mahama administration.

The allegations were contained in a leaked tape allegedly submitted as a witness statement by a Joy Fm reporter, Kwesi Parker–Wilson, in support of the deposed EC boss, Charlotte Osei, to the Chief Justice's committee that investigated complaints for the removal of the EC Chairperson.

The Joy Fm reporter allegedly recorded an EC Commissioner, Pauline Adobea Dadzawa, secretly and submitted it as a witness statement to the CJ's Committee.

Mr. Ofosu was linked to a recent statement by NDC founder, Jerry John Rawlings, at a public function that a young minister in the Mahama administration acquired two mansions at $3 million for himself and his wife immediately after the NDC lost power.

Denial

"My attention has been drawn to an audio recording making the rounds in which a commissioner at the Electoral Commission of Ghana, Mrs. Pauline Dadzawa, is heard saying that I took $6 million out of a supposed $12 million meant to bribe some members of the Electoral Commission to influence the outcome of the 2016 elections," Felix Kwakye Ofosu said in a statement.
He said "for the avoidance of doubt, the claims made by Mrs. Dadzawa are false, baseless, malicious and a figment of her obviously fertile imagination. At no time before, during or after the 2016 elections was I given money by anyone for the purpose described by her."

"I find it regrettable that despite her standing as a high-ranking official of an important constitutional body like the Electoral Commission of Ghana, she found it necessary to dabble in such petty and mischievous gossip."

He added "in the process she threw out complete fabrications in a manner that does harm to the reputations of innocent persons."

Immediate retraction

Felix Kwakye Ofosu said, "I am by this statement demanding an immediate retraction of the malicious claims by Mrs. Dadzawa, failing which my lawyers have standing instructions to commence legal action against her and all others, who spread the falsehood she peddled in the tape."



NPP Activists
Felix Kwakye Ofosu said, "I have also noted that some NPP activists, operating mostly from the Presidency, have splashed posts and pictures on social media that seek to use Mrs. Dadzawa's falsehoods to justify yet another falsehood: that I was the subject of claims by former President Rawlings at this year's June 4th event at Madina that an official of the previous government had purchased two houses in Accra at $3 million".

Felix Kwakye Ofosu said "while acknowledging that Mr. Rawlings did not mention my name or attribute the said house purchase to me in his speech, I wish to state that I have not bought any houses of the sort described by Mr. Rawlings."

"It is a well-known strategy of the New Patriotic Party to routinely target critical opponents with calumny and outright untruths. It is the same strategy that informed their fabrication of NIA cards in the name of some members of the Minority only for the NIA to issue denials of same.

"He urged the public to completely disregard these falsehoods and not fall prey to the handiwork of state-sponsored fake news peddlers."

Nyantakyi Case

Interestingly, when Anas Aremeyaw Anas's piece came out which forced former Ghana Football Association (GFA) president, Kwesi Nyantakyi to resign, Felix Kwakye Ofosu virtually found President Akufo-Addo, Vice President Dr. Bawumia and other leading government officials 'guilty' merely because of the alleged comment by the former FA boss.


Air of Authority

He posted on social media that "the air of authority with which Nyantakyi spoke in the Anas video shows that he knew what he was talking about. He has left the President, Vice President and other officials he mentioned profoundly damaged!"

Critics say Ms Dadzawa, who recently retired from the EC, knew what she was saying because on the tape she said she's a friend of John Mahama and that sources told her that Mahama administration gave the EC $12 million to share.

Hard Cash

"What did this small little character do? After we lost the 2016 I said he went and paid cash for two mansions," Rawlings fired at the 39th Anniversary of the June 4 Uprising held at the Madina Social Welfare Centre in Accra.

He said "one for himself and one for his wife and of course the man who was selling properties that he has built for sale should have been happy isn't it because he was making profit."


Sad Situation

Mr. Rawlings, however, said that "he (property owner) was very sad and he was very angry. Why do you think he was angry? Because he has sweated to build these houses to sell for profit and instead of the money to come into his account or being given a cheque, he was being given physical cash!

"What that meant was that he had to spend the whole night counting the $1.5 million each times two, the $3 million. Do you get me?"