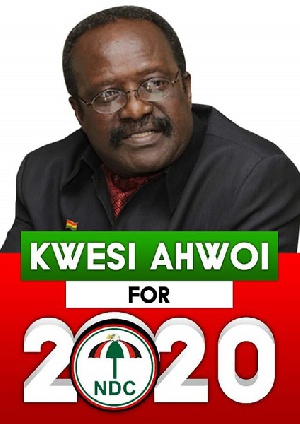 Tue, 1 Aug 2017 Source: Daniel Kaku
Posters of Mr. Kwesi Ahwoi for Presidential Candidate for the opposition National Democratic Congress (NDC) has popped up and flooded social media.
Although the NDC has not opened nominations yet, some bigwigs and other members of the party have shown their interest in taking flag-bearer position to lead the party, the National Democratic Congress in 2020.

Last three months, similar posters of Dr. Ekow Spio Garbrah, Mr. Slyvester Mensah, Hon Nii Amasah Namoale, Prof Joshua Alabi among others also popped up as they face the former President, His Excellency John Mahama in party's presidential primaries in 2018.

However, the reporter, Daniel Kaku cannot confirm or otherwise if he is aware of the posters and whether he will want to take up the flag-bearer position but till now Mr. Ahwoi Kwesi is silent on the circulation.

Background

Mr. Kwesi Ahwoi (born 17 November 1946) is a former Minister of the Interior of Ghana.
In 2015, he became the first Ghanaian ambassador to the Comoros, he also doubles as an ambassador of Ghana in 4 other countries; Lesotho, Mauritius, Seychelles, and Swaziland.

Education

Mr Kwesi Ahwoi attended Prempeh College at Kumasi where he obtained his GCE Ordinary Level in 1965. His sixth form education was at St. Augustine's College (Cape Coast) where he passed the GCE Advanced Level in 1967. His undergraduate education was at the University of Cape Coast where he obtained the Bachelor of Arts in Economics, Geography, and Education.

Between 1980 and 1981, he studied for the Post Graduate Certificates in Budgeting and Financial Management and from the Ghana Institute of Management and Public Administration .

During 1985 and 1986, he studied for the Postgraduate Certificate in Planning and Resource Management at the University of Maryland, College Park, United States.
Career

Mr. Ahwoi has held various positions in government and business.

He was the Chief Executive Officer of the Ghana Investment Promotion Centre during the Rawlings era. Following the December 2008 presidential election, he was appointed Minister for Food and Agriculture by President John Atta Mills .

In January 2013, Mr Ahwoi was appointed Minister for the Interior of Ghana by President John Dramani Mahama. He held that position until 16 July 2014.

Mr Kwesi Ahwoi is married with seven children. Mr Kwamena Ahwoi and Mr Ato Ahwoi, both brothers of Mr Kwesi served in the Rawlings government.
Source: Daniel Kaku