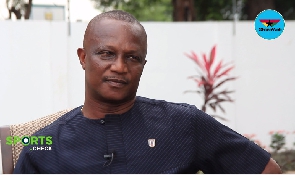 Ghana head coach Kwesi Appiah has lauded the lads after defeating the Walias of Ethiopia 2-0 in the 2019 Africa Cup of Nations qualifier on Sunday.
Crystal Palace ace Jordan Ayew bagged a brace as the Black Stars secured a vital three points to increase their chances of qualifying to their eighth straight AFCON tournament.

Ayew controlled a long pass from defender Colombus Crew defender Harrison Afful before calmly slotting the ball into the net with a fine close range.

The striker who was making a return to the Black Stars after a one-year absence doubled the lead before the half-hour mark via penalty spot after Emmanuel Boateng was fouled in the box by Ethiopian goalkeeper.

Walia ibex, however, possessed the ball better after recess but lacked the cutting edge in attack to put the ball at the back of the net.
"The players did well considering the nature of the pitch and secondly the altitude, it wasn't easy. Even though I was standing out there, I was sometimes finding it difficult to breathe but for them to the whole 90 minutes, I think they've done really well," the former Ghana international told reporters after the game.

"Tactically after we went ahead two goals the intention was to make sure they will be able to contain the weather and for that reason the opposing team had opportunity to maintain the ball more."

"At the end of the day, if they possess more you don't have a problem but once they enter your box that's where the problem will be created but on the whole looking at the altitude it was very difficult in the second for our players," he added.