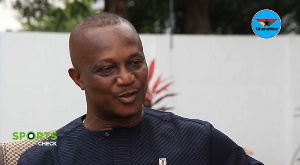 1965 AFCON winner Rev Kofi Pare has suggested that Black Stars coach, Kwesi Appiah must coach a local club here in Ghana to gain an experience to win the AFCON trophy for the country.
According to him, local players must dominate the Black Stars squad because most of these players were trained in Ghana and are aware of the terrain of African football just like the past Ghanaian players.

"Now football is about money so most of these players will like to play their trade in Europe. Its about time the leaders of the nation contact retired players so that they dialogue and plan towards this issue.

It's about time the coaches invite retired players to give an advice to these young players when they are in camp. We see a lot of mistakes when they are playing and we will be glad to correct them."
He continued that government still owes them when they were promised a house each and some amount of money if they win the African cup in 1965 but they were given part of the money. Rev Pare continued that he is still waiting for his house

Rev. Kofi Pare was part of the 1963/1965 squad that won the AFCON trophy for Ghana when they met the host nation Tunisia in the grand finale and thumped them 3-2 after extra time.