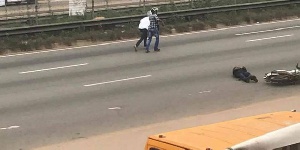 Atinkaonline has gathered that the two armed robbers who shot and killed a police officer at Abeka Lapaz in July 2017, have been captured by the police.
The suspects are said to have snatched an unregistered Hyundai Sonata and fled immediately after shooting the two officers, killing one in the process on that day.

According to a reliable source, the two suspects have been identified as Rahim aka "Spata" and Kasim also known as "Macho".

Our sources say, the two armed robbers are protégés of "Dogo America", a notorious land guard cum armed robber, who was killed during a gun battle with the police in Ashaiman last year.

According to the police, the two robbers escaped to Togo after the Lapaz shooting but returned to the country a month ago to carry out another robbery operation.
Rahim aka Spata was arrested at his hideout at NIMA while Kasim aka "Macho" was also arrested at his KASOA hideout last weekend.

The source said Kasim admitted he was the one who shot and killed the police officer at close range.

They will be arraigned before the court later this week.