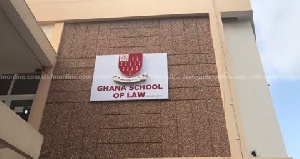 Fierce critic of the General Legal Council (GLC), the regulatory body of legal education in Ghana, Professor Stephen Kwaku Asare fondly called Kwaku Azar has called out the President Akufo-Addo, the Speaker of Parliament, the Minority leader, the Attorney-General and her deputies for tacitly supporting the GLC to deliberately limit the number of people who become lawyers.
"…They either do not see the tyranny by the GLC or support it by their silence," he bemoaned.

Prof. Azar has consistently criticised the GLC for denying many people the opportunity to become lawyers by ruthlessly restricting the number that have access to the Ghana Law School and get called to the Bar.

He has called for its dissolution and replacement with a much more progressive body that will ensure that legal education is much more available to Ghanaians.

But in his latest criticism of the GLC, he has argued that politicians should be blamed as well for looking on unconcerned as the GLC denies many access to become lawyers.

"The President is a lawyer. The Speaker is a lawyer. The minority leader is a lawyer. We have an Attorney General and her two Deputies.
Yet, they either do not see the tyranny by the GLC or support it by their silence.

The GLC is not the only problem. The political leaders are equally blameworthy for their willful blindness or their unconscionable silence," he opined in a Facebook post sighted by MyNewsGh.com .

For him, the latest massive failure this year that saw only 128 people pass out of a total of 1820 should prompt all to push for reforms which reforms he has advocated for a long time.

"128/1820 is the last straw," he noted.