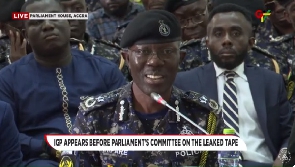 Superintendent George Asare has submitted the names of three persons to the parliamentary committee probing a leaked tape in whcih some police officers are plotting the ouster if Inspector-General of Police (IGP) George Akuffo Dampare.
In a letter through his lawyers to the Chairman of the committee probing the tape, Supt. Asare has requested the three persons to testify in respect of five allegations he made against the IGP during the sittings weeks back.

The three are: Ishaw Yakubu a.k.a Boyo, Samuel Ofori and ASP Bawah Abdul Jalil.

"In our quest to provide evidence to substantiate some of the claims made on the audio tape, we wish to call the following persons to assist the committee on some matters," the letter pointed read in part.

The letter further stated that Ishaw Yakubu a.k.a Boyo and Samuel Ofori would be testifying on the following:

a. The award of a contract to Bugri Naabu and the payments of kickbacks by Dr Akuffo Dampare.
b. The role played by Bugri Naabu during the period leading to the appointment of Dr Akuffo Dampare as IGP.

c. Unauthorised monthly payment made by the Pay Master, COP Nketiah Frimpong on behalf of Dr Akuffo Dampare to Bugri Naabu, Samuel Ofori and Boyoo.

ASP Abdul Jalil, on the other hand, would also be testifying on:

a. The conversion of the Police Intelligence Directorate into a personal unit of Dr Akuffo Dampare

b. The extra judicial killings being committed by the PID upon the directions of Dr Akuffo Dampare
The trio will sit through the in-camera hearing which would be taking place on October 2 if the committee invites the said persons.

The IGP who took his turn to respond to allegations by Asare and now retired COP George Alex Mensah denied all their claims.