Leaked wireless message: IGP directs police commanders not to allow ECG officials into their facilities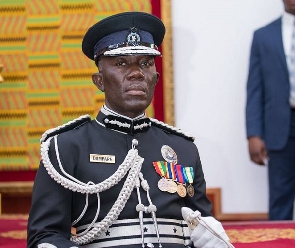 The Ghana Police Service has reportedly directed its regional commanders to ensure that no official of the Electricity Company of Ghana (ECG) is allowed into any police facility under their jurisdiction for inspection of electrical connections or any other activity.
A leaked police wireless message shared on Twitter by Oliver Barker-Vormawor, a convener for the #FixTheCountry Movement, which contained that said order, indicated that the order was from the Inspector General of Police (IGP), Dr George Akuffo Dampare, and must be adhered to religiously.

It was also stated in the wireless message that a letter will be given to the ECG indicating when their officers are to visit police facilities for their inspections and other activities.

"INGPOL DIRECTS ALL REGIONAL COMMANDERS SHOULD NOT ALLOW ANY ECG OFFICIALS INTO POLICE FACILITIES WITHIN YOUR JURISDICTIONS

"A TEMPLATE LETTER OF INVITATION TO FORMALLY INVITE ECG OFFICIALS TO UNDERTAKE INSPECTION, REVIEW OF CONNECTIONS, RECTIFICATION OF IRREGULARITIES AND INSTALLATION OF BULK METRES FOLLOWS.

"DIV./DIS/UNIT COMMANDERS SHOULD ENSURE STRICT COMPLIANCE AND REPORT ANY SUCH CASE TO REGIONAL COMMAND IMMEDIATELY FOR REDRESS. TREAT AS URGENT," parts of the message read.
Meanwhile, the Managing Director of the Electricity Company of Ghana (ECG), Samuel Mahama, has indicated that the next major exercise, after his outfit's revenue mobilisation drive, is clamping down on illegal connections in the country.

According to him, the company will be going from house to house and business to business to check for illegal connections and any entity found culpable will face the full rigours of the law, asaaseradio.com reports.

"Those who are involved in illegal connections, we're giving you one month head start to correct it because I'm not charging you with bypass, I'm charging you with theft, you've stolen," Samuel Mahama is quoted to have said on the Asaase Breakfast Show.

The ECG disconnected power to parts of the Osu Police Barracks because of an illegal connection to the national grid this April.

The task force from the ECG discovered the illegal connections on three blocks of the barracks, which had connected power directly without a meter. The illegal connections were discovered on the ECG's usual rounds to recover monies owed by customers and disconnected.
The manager in charge of external communications at ECG, Laila Abubakarim, who was part of the team that visited the barracks, said that they had to disconnect power to the three blocks because of the illegality.

"Since it's an illegal connection, we have the first right to disconnect before we deal with issues. The Ghana police would have to come to ECG where a bill will be generated for them covering a period of 12 months.

"The administration block also owes, but due to security implications, we've spared that facility while we discuss further the amount involved. We consider the police accommodation facilities (blocks) a general facility hence the disconnection," she said.

View the police wireless message below:


Impunity is bold pic.twitter.com/smJMIJKwHJ

— Osagyefo Oliver Barker-Vormawor (@barkervogues) April 21, 2023
Watch the latest episode of People and Places below:






IB/DO