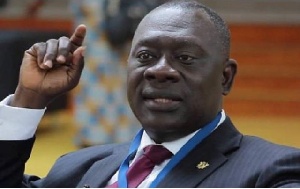 All current Members of Parliament must emulate the efforts of the late JH Mensah with respect to how he carried his parliamentary duties, O B Amoah, Member of Parliament (MP) for Akwapim South, and Deputy Minister of Local Government and Rural Development, has said.
According to him, Mr Mensah was hard working when he was a Member of Parliament and through that, he achieved a lot of successes.

Mr Mensah died in the early hours of Thursday, 12 July 2018. He was a politician and an economist. He was 89.

About Mr Mensah

Mr Mensah began working as an assistant inspector of taxes in 1953 while the Gold Coast was still under colonial rule.

In 1958, Mr Mensah joined the United Nations Secretariat at the Centre for Development Planning, Projections and Policies, in New York City, United States. He returned to Ghana in 1961 as the Head of Agency at the National Planning Commission which drew and implemented the country's Seven-Year Development Plan (1962–1969).
In 1969, he was elected to parliament and became the Finance Minister until 1972, when he was replaced by future head of state Ignatius Kutu Acheampong after the military coup. In 2005, he was appointed Senior Minister by President J.A Kufuor.



Speaking on TV 3's New Day on Saturday July 14, Mr Amoah said: "The current MPs must emulate him if we want to succeed in parliament. This is a man who never slept, he was always working."

"He took the work of parliament seriously and we must all learn from that," he added.